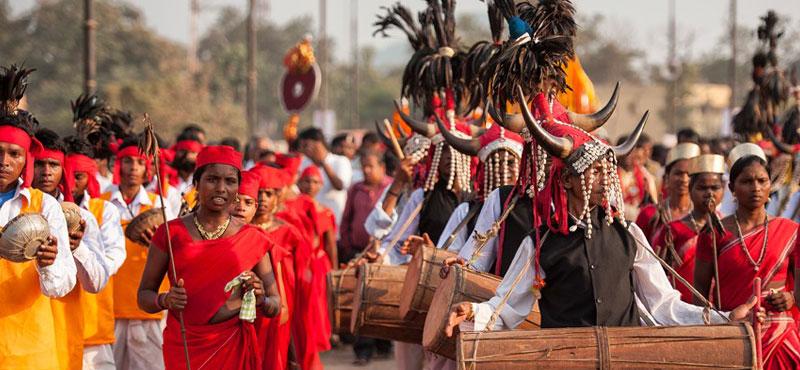 Dussehra in Jagdalpur is celebrated in honour of Sri Danteshwari Mother Goddess. She is highly revered and respected by the tribes. According to local legend she safeguarded the Bastar king from the attackers and gave him protection in the forests. As a mark of their gratitude, the tribes still owe their allegiance to her. The deities from far flung tribal villages are brought to the Temple of Goddesses Danteshwari in Jagdalpur on this day. Jagdalpur is the district capital of Bastar and stands witness to a lot of festivities on the occasion of Dussehra. There are several other customs also that are associated with Dussehra in Chhattisgarh. The presiding deity of the temple is placed in a chariot and all the devotees lend a hand to the rope when the Chariot is pulled. The joy and mirth of these simple tribal people is indeed unlimited. They enjoy themselves thoroughly. It is a time when they get to meet each other and be a part of all the merry making. So do try and get a taste of the pomp and pageantry at the time of Dussehra. Festival.
Proposed Itinerary
DAY 01: 6TH OCT 2019 (SUN): VISAKHAPATNAM
Arrival Visakhapatnam from Delhi/Mumbai/Hyderabad/Chennai and transfer to hotel.
Visit the Simanchal temple in the afternoon and take a walk on the popular marine drive. Orientation of the tour by our guide and welcome drink hosted by us.
DAY 02: 7TH OCT 2019(MON): JAGDALPUR
Visit the colourful market for muria tribes and visit the spectacular chitrakoot waterfall. Overnight stay in Jagdalpur. Evening enjoy the Dashahra festivity.
DAY 03: 8TH OCT (TUE): JAGDALPUR Dushera FESTIVAL
Morning visit the Muria tribal villages. Then whole day enjoy the Dushera festival at Jagdalpur town.
DAY 04: 9TH OCT (WED): – JAGDALPUR – KOTAPAD-NANDAPUR-SEMILIGUDA
Morning visit the tribal textile vcillage of Kotapada, then visit the colourful weekly market at Nandapur and visit nice tribal villages. Overnight stay in a decent hotel at Semiliguda.
DAY 05: 10TH OCT (THU): EXCURSION TO BONDA MARKET
Today visit the weekly market of most interesting Bonda, tribes. Also meet the other tribal groups of Gadaba, Didayi tribes.
DAY 06: 11ST OCT ( FRI): SEMILIGUDA-KUNDULI- VISAKHAPATNAM DROP
Visit the larjest weekly market of Paraja, Mali tribes and also for cattle trade. Visit the pottery maker village and Paraja tribal village and afternoon drop at Koraput.
Note:  Tour can be extended for one more week to visit the Highlights of Odisha (Puri-Konark-Bhubaneswar-Gopalpur Beach). Festival dates may change as it is mostly decided by the Lunar Calendar and the tribal chief.
For the tour price and detailed tour itinerary and other details pls mail to us bubu@heritagetoursorissa.com.